Jack's Plastic Welding, Inc. (JPW) manufactures inflatable boats, dry bags, and paco pads. Our inflatable boats include: inflatable pontoon boats for fly fishing, catarafts (our Daddy Cat has been the most popular), paddle catarafts like the pack cat, and the fat pack cat, inflatable kayaks, and Self-Bailing Rafts. We also manufacture three basic models of frameless cataraft; the standard culebra, the culebra grande, and the outfitter culebra. Dry Bags and Paco Pads™ are still our best selling items. Our dry bags have a simple closure that works, and our pads are still the most comfortable and durrable.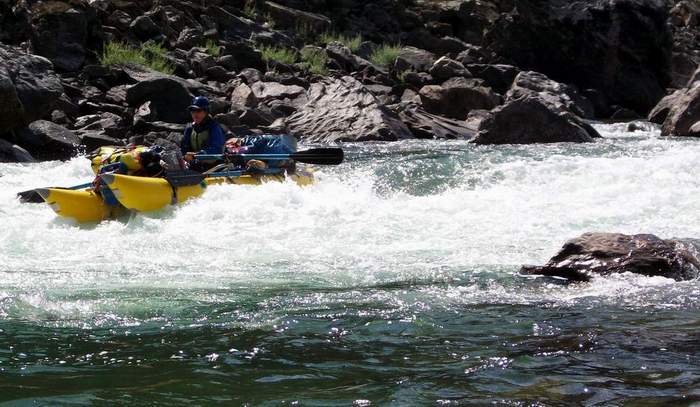 The links in the proceeding paragraph go to our photo gallery where we describe the use of these products. To order them, click on the products paddle and you will be able to find and purchase from a standard list of Whitewater, Paddle sports, and rafting gear that is truly unique.
All our products are made right here in the USA. We have real, 10 year warranties on our inflatable products that you can collect on, but probably will not have to. We are the only manufacturer that warranties their Dry bags and Paco Pads™
If you are confused with too much information on this web site, you may want to read this synopsis page to get started.
What does it take to compete with Chinese Inflatables?
The first Solar Powered Traverse of Lake Powell Ever!
Have a warranty issue? This article may help you get a faster resolution to your problem
Pictures and thoughts on the solar experience. We did not dip and oar for 85 miles, and the fuel was FREE!
The Second Solar Powered Traverse of Lake Powell
just 2 months later bigger boat more pannels less sun
JPW Makes Custom Products
Some of the top pages we refer people to during conversations
Raft Design by JPW - The concepts that make our Self Bailing Rafts better.
Custom Self Bailing Raft table- Jpegs and edrawings of most custom rafts
History of the Rescue Culebra -where the ideas come from
culebra specification table-Jpegs and edrawings of different culebra models available
foot thwarts how they work on culebra frameless cats and in self bailing rafts too
What you need to know about care and maintenance on your inflatable.
What is the hardest job that your inflatable has to do, and how to keep in from getting damaged when it does that job.
Cutthroat Information
How many different ways are there to rig cutthroats, and how many different tube variations are there? This page gets a little closer to answering the question. Because these boats are so versatile, we decided to build a table to help you with your decisions.
What you need to know if you are a first time rafting customer.
Many of our customers got hooked on the sport by going with an outfitter the first time. This is some good information you may want to read before you sign up for your first trip. courtesy American Whitewater Expeditions
Misc interesting info about our products
JPW fishing pontoons make a big splash in Denmark
Anderson pontoons is our partner in Denmark making the best rated pontoon boats in Western Europe with JPW USA made tubes.
NASA-sponsored study being conducted at the University of Houston (Video) Is a little thing, that may save a lot of astronauts some long term medical problems. It is simply a bladder that puts pressure on the soles of the feet to mimic gravity and convince the brain to keep muscle mass on a long term space flight. This may help bed ridden patients keep muscle mass also. Some simple Ideas are real game changers. We hope that this is one of them.

Don't know Jack about inflatables?
Call 1-800-742-1904 and talk to Terry. Terry took over for LLrette who has moved to Greeley co. Terry is learning the ropes fast. Questions about inflatables from recreational to industrial, dry bags, and Paco Pads™. she can help, and she knows Jack!
Want to find out more about our company, our philosophy, and how we work together? Click here.
Jack's or Better News form the wild cards at JPW
This is a news letter that covers the last half of 2011 and the first 7 months of 2012. We think you will find it very interesting.
Capability Statement
If you are a government agency or engineering company in need of a capability statement for JPW Inc, you can download it here. It is in Microsoft Word format, and is about 600K in size. This is an interesting document with examples of some of our custom products, and a general overview of the kind of products we can make outside of the whitewater recreation market.
We do not sell any Chinese inflatable products, nor do we do business with any Chinese inflatable company for any reason. Disregaurd any information that you may see to the contrary. A couple of years ago our web site was stolen by a Chinese company. The stolen material may still be on the internet even though it will be hard to find with search engines. Learn more about how we managed this problem..
---