The History of Catarafts

A Cataraft is a catamaran type raft. I do not know who first used this term, but this kind of raft has been around a very long time. I believe that the first catarafts were the original snout rigs that were used in the Grand Canyon in the late 1960's. However it could date back further than this. These boats were made with 36 inch diameter bridge pontoons that were 22 ft long. They had a metal frame in between and they used 14 foot long oars. I was fortunate enough to be able to row these in the Grand Canyon. It took a lot of skill to get to shore in the right spot because of the immense weight that these boats had. In big waves and hydralics, these boats were virtually unstoppable. These boats are still used today in the Grand, Cataract Canyon, Idaho, and Utah. The war surplus neoprene tubes are Heavy, and bomb proof.

The Idea of a cataraft evolved with Chris Walker, who had a company called Argonaugt, and later became one of the owners of the Aire corporation, (Argonaugt Inflatable Research and Engineering) the largest Cataraft manufacturer in the country. The Argonaugt was a double tube design. It had two tubes on each side. This design allowed the boat a shallower draft in the water, but it also had more surface area in contact with the water, and therefore it was more likely to be acted upon by the river hydraulics than a single tube design.

Milt Wiley of Four Corners River Sports and Casey Lynch of Mountain Waters Rafting in Durango Colorado, wanted a single tube design to help solve this problem. In an attempt to get a Cat setup that could successfully run the Upper Animas commercially. They tried Maravia tubes, which were custom made, and finally Milt had a manufacturer in Missouri build single tube designs for him. These tubes had some design problems, mostly with the baffles, and Milt ask me if we could build tubes too.

How we got involved
At the time we were doing some consulting work with Maravia. The available glue they were getting, would reactivate in the sun, and their boats were coming apart. They ask me to come to their shop to show them what hand welding techniques we used. Together we established techniques that enabled us to close up the entire raft with a welding process. This solved a big problem for Maravia, and in return I was offered one of their rotary welders at a very good price. I jumped on it, and we started to build Cat tubes.

Our design was primarily due to the product testing that had already taken place through Four Corners River Sports, Mountain Waters Rafting, on the Upper Animas. Our first tubes were sold for commercial use on the Upper Animas. These tubes were resold after 7 years of commercial use. They were patched, and Double bottoms were installed. Still the boatmen agree that these are the very best craft for Class 4+ continuous white water. The design of our Daddy Cat has changed little in 13 years.

It is important to give credit to the people that I worked with.
Milt Wiley was constantly thinking out of the box, and was known as that "old guy" who was always pushing the limits. Milt passed away one day when he tried to ski across ice that was too thin on Electra Lake where he lived. They found his skis on top of the ice, and his body was close to shore. I think he believed that this was just another adventure he would be able to talk about. We will miss him. Many of his friends in Durango were not surprised to see his life end this way. He would constantly push the limits.

Casey Lynch of Mountain Waters Rafting, took the risks involved with running a new kind of craft down what many considered to be an unraftable river. Now there are many companies that run this stretch.

Doug Tims of Maravia was very instrumental in helping us. He provided us with patterns for our first Daddy Cat, and sold us a machine to build them. Although he did not believe in the potential of catarafts at first, Maravia has become a major cataraft manufacturer. It may seem odd that as competitors we would share information. However, I have visited their facility, and spent considerable time with George Aragon (Maravia's Production Manager), and I have always come away with more knowledge that I contributed. Many new welding machine designs were a result of Maravia working directly with the manufacturer. They need to be congratulated for their efforts. Some Ideas work, some did not. Someone had to take the risk.

Frames
Frames have evolved, and there are a number of combinations that are available. When purchasing a Cataraft, please keep in mind that the performance of a cat boat is only as good as its frame, and while one frame style is great for one customer, it may not be so good for another. The reason for this is that Catarafts are such personal craft. Day excursions require different framing requirements than does a 21 day grand trip, or search and rescue frames. Finally the frame has to fit the oarsman, or be adjustable for different people.

A Cataraft can do more things than a conventional raft if the proper framing is used. These craft are not as user friendly as a conventional raft. They require skill and knowledge in how they are rigged and for what purpose. We use our Cats for pleasure boating on the reservoirs of the Southwest, they have been used for sailing, fly fishing, and of course they are great whitewater boats. The multiple uses of these craft make them a great choice for those with limited storage space, and who want to do more with their leisure time. Please look into frame considerations before deciding which is right for you.

Modular Frames
The modular concept of Cataraft framing is one that uses many different kinds of frames to accomplish the job you want the frame to do. There typically is a row module, and deck boards, cargo baskets, or paddle modules, or combinations of all of paddle and cargo module.

The deck board idea is the least costly, because the load is tied down on top of deck boards made of plywood with holes drilled in it at regular intervals. The row module is all that is needed to keep the tubes in alignment and apart. There is the inevitable problem of lost gear off of the deck boards from a careless boatman or passenger with this system. One great benefit of the deck board system is the ability to strap lawn chairs and coolers and umbrellas to it, making a very functional inexpensive and comfortable passenger spot. Deck boards work and we have used them on Cataract Canyon, and the Grand Canyon. Sometimes the lawn chairs come out on the calm stretches.

Paddle modules can stand alone with a cooler in the center, or be used with a row module in the back. Row and paddle combination is a popular method to get commercial passengers down the Upper Animas and Piedra rivers in Southwest Colorado. These are both class 4 plus with class 5 and 5 plus rapids in high water.

Cargo modules can have seats on the side and double as paddle and passenger modules. Four Corners River Sports has been making these types of frames for years and has this modular concept down well. Their testing grounds for development has been the Grand Canyon, Piedra and Upper Animas, and The San Juan among others. One hybrid setup that I liked for running the Grand Canyon was a large cargo basket in the back of a Grand Daddy Cat, with a deck board on the front. We placed lots of gear up on the deck board, and this was where the passengers rode too. When this boat hit a big hole, most of the stopping power of the reversal would go under the gear on the deck board. The momentum of the boat and the wave action going under and through the boat caused this design to be a real hole diver survivor. The cargo basket in the back droped down below the top of the tubes. Heavy coolers were placed here between the tubes. This kept the over all center of gravity lower than using two deck boards.

We also tried this same design on a Daddy Cat, and had much the same effect. However we had so much weight on the tubes, and so much of that was out toward the end of the tubes that it actually bent the ends downward. The gear load was at least 2,000 lbs, and with that much weight on the boat the performance was not changed by a slight bend in the tubes

Full Frame Concept
The full frame concept incorporates a frame that goes the full length of the main part of the tubes (ten feel long on a daddy cat). Typically, there are "bays" or sections where a cooler, ammo cans, or a drop bag is placed for gear or food. These frames do not bend. They are also very big. They are not as easy to transport. It is difficult to take them apart if you only wanted to use part of the frame for a day run. In fact they are seldom built that way. Down River Equipment Frames are break apart because they are built with fittings. These are highly adjustable for all sizes of operators. The advantages of this system are: The oar locks can be moved up or down, in or out, and oar geometry is not a problem so they row very well. They are break apart so they are UPS able. Therefore the shipping cost is less. Gear load is distributed over the entire length of the main tube through the frame. The bays are adjustable to fit different coolers, ammo cans ect. Disadvataages are: They cost more. Part of the frame can not be left at home if you do not need it. Often the frames are a bigger challenge to transport.

Transportation Issues
The cost of shipping your cat frame is one issue. If a frame is UPSable, then the overall cost of the frame is lowered by the lower shipping cost. There is a higher production cost to make a frame that will be UPSable. This does not guarantee that the break down frame you pick will fit into an airplane that can take you to most of the rivers in Northern Canada and Alaska. The best resource on the small plane issue is a book by Andrew Embick called Fast and Cold, a Guide to Alaska Whitewater. It is Distributed by Falcon Press Publishing Co. Inc., P O Box 1718 Helena, Mt 59624. Call them at 1800 582 2665. You must also check with airline companies if you intend to take your boat frame as extra baggage to some remote location.

The Airline Solution
We have a number of customers who use our cat tubes to do remote trips in South America, Nepal, and Alaska. Wild Rivers of Bluff Utah, a few years back, purchased an expedition cat from us to run the Amazon river. This is a large cat boat, but the tubes roll down fairly small. They had a break apart frame that had small enough pieces to ship with the airlines. They also took a 8 hp Mercury outboard motor. One person took the motor as excess baggage. Another took one of the Cat tubes. Still another took part of the frame, and so forth. In this way the whole boat made it to Ecuador for the trip. If anyone is considering this approach, I would like to get more information on how to deal with customs in third world countries. Please write to me and I will try to find out more from some of our customers.

The Lightest Frame
The lightest frame that I have ever heard about is one that is used by Andrew Embick. He is the Author of an Alaska guide book called and Fast Cold a Guide to Alaska Whitewater. Awhile back he purchased two two man Inflatable Kayaks to use as cataraft pontoons. This by itself is an intriguing idea. However the frame that goes on this boat is made of thin wall titanium tubing. It is very strong, and very light. He uses small speed rail fittings to put it together and the places where the fittings are clamped down are filled with epoxy resin so the tubing does not collapse. The frame only weighs 18 lbs. I do not know of the source of the tubing, or the fittings. He seems willing to correspond with interested people. You can find Andrew's book at most whitewater stores including Four Corners River Sports, and Down River Equipment co. This book is distributed by Falcon Press P O Box 1718 Helena, Mt 59624, Their Phone Number is 1800 582 2665. In this book you will become enlightened about why this style works with Airplanes. He told me that he saved enough money on a couple of plane flights from weight alone that he paid for the frame.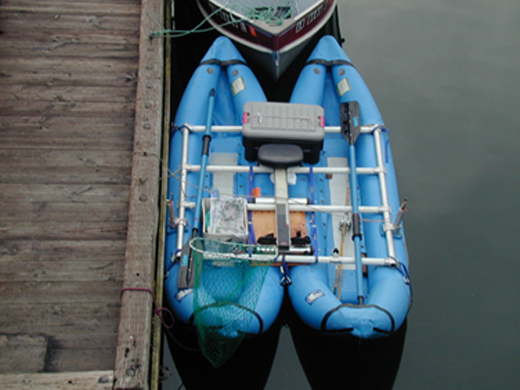 This is the concept. this frame is a cusomized speedrail frame.
Speed Rail frames
We have a number of dealers who make frames with speedrail fittings.
Professional River Outfitters (PRO The same people who invented the painless private Grand Canyon trip.
Riverboat works has a web site where you can build your own raft frame. If interested in building your own cat frame, you may wish to call and see if that option is available also.
Frame Manufacturers
Please Have a look at our Frames Section in the Photo Gallery for pictures, descriptions, pictures, and manufacturers of many different frame concepts.