West Dealers
Water Ready! llc.
43504 Hwy 226 SE
Stayton, OR 97383
541-265-7192 or 503-871-8900
waterrdy@wvi.com
www.waterready.com
Home of the Rapidcat pontoons! Built for, not just the "average" fisherman.
Located east of Salem, OR near the North Santiam River and the Gateway to the Cascades mountains, and lakes. Water Ready! has in-house rafting supplies along with sporting goods and fly tying accessories. Pontoon rentals, sales, and demo's on the river too!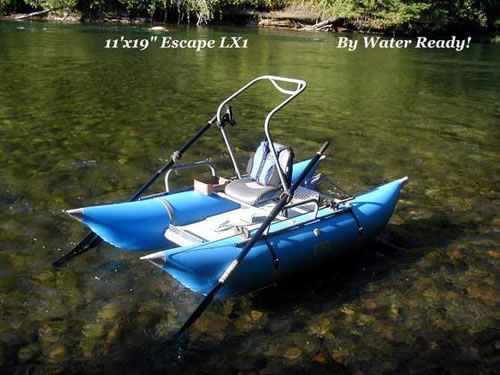 ---
River Connection /The Boat Doctor
7121 S.E. Overland
Milwaukie, OR 97222
503-788-3077
judi@riverconncetion.com
www.riverconnection.com/whitewater_store.htm
Paco Pads, Dry Bags, Collapsible buckets, expedition cats, Cutthroat. Rafting Information.
---
Pacific River Supply
3675 San Pablo Dam Rd
El Sobrante, CA 94803
510-223-3675
mike@pacificriversupply.com
www.pacificriversupply.com
Large selection of Paco Pads and Dry Bags
---
Clavey River Equipment
409 Peraluma Blvd South
Petaluma, CA 94952
707-766-8070
info@clavey.com
www.clavey.com
Always in stock. Fulls and Super Paco Pads
---
Garns Shade Cats
320 33rd St NW #5
East Winatchee, WA 98802
509-699-1016
garnchristensen@yahoo.com
Big Cats such as the El Tigre 28" diameter. Paco Pads.
---
The River Store
1032 Lotus Road
Lotus, CA 95651
530-626-3435
info@theriverstore.com
Paco Pads
---
Wing Inflatable
1132 Samoa Blvd
Arcata, CA 95521
707-826-2887
www.wing.com
Custom Bags