Standard Mesh Bags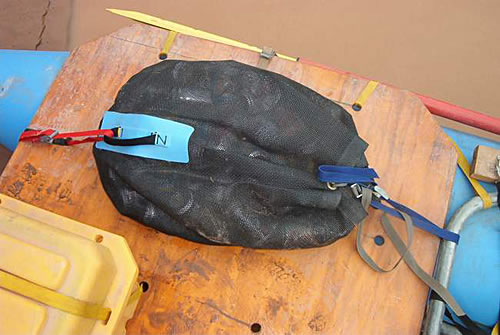 Heavy duty mesh bags for pop, beer, gear, and straps.
The bottom fabric is 35 oz PVC Boat Fabric welded to Superman Mesh; the strongest PVC coated mesh available. They have an extra heavy boat handle that is RF welded through the mesh. The mesh is actually sandwiched between the handle and a patch on the inside for added strength. The hemmed top has 6 toothed spur grommets in the top.
This Large Mesh Bag holds approximately 100 cans of drinks and costs $81.53. The handle is located 1/3 of the way up from the bottom. The bag can be easily lifted by the top and the handle when full of drinks. When dragging, they can be lifted out of the water and tied up by the handle without loosing any drinks, or tied on top of a tube or deck when running a rapid. They can be tied inside of a frame or to d rings by strapping around the bag and through the handle.
We tested these bags on an 18-day Grand Canyon trip. They were filled full of pop and beer. Some were tied on decks, or strapped around frame parts and some were dragging in the water. They were very convenient for hauling drinks, crushed cans, wet suits ropes, straps and other miscellaneous gear on the drive around.