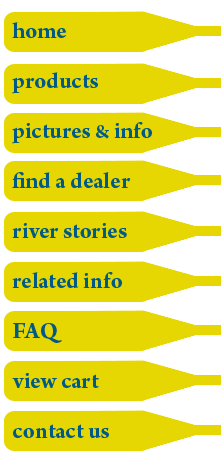 Interesting Trips With Our Inflatable Products
Hank Baca and his Cutthroat 2 with 19 inch tubes
Hi jack. I bought a cutthroat 2 with 19" tubes from you this spring and it's been a blast. You helped me set it up in the shop and gave me a lot of advice on oar length, frame positioning, etc. we've had it on the San Miguel, Rio Grande up by Creede, Lake Fork of the Gunnison, and Upper Dolores. It's easy to row, carries plenty of gear and people and is easy to carry around and load and unload. I strap the whole cat to my pickup truck rack and we never have to take the frame off the tubes. We've also had it on the Animas in Durango several times a week at flows from 189 cfs the day after I bought it to over 4000 cfs a couple weeks ago. 189 is bony w/ 2 people, but the boat doesn't draft much more than my kayak. It's punched right through smelter and every other hole I've asked it to. We've done a couple overnighters as kayak support (4 people's gear plus 2 people on the boat). We've also had up to 4 people on the boat day tripping on the Animas. I couldn't be happier with it.
While on the San Miguel an inexperienced friend was rowing w/ a heavy load and crashed through a couple strainers before getting hung up in one. To make a long story short, I had to swim the boat down, climb in and get the oars back in the locks (thank heaven they were tied to the frame) and get it to shore. The boat went broadside through several waves, hit rocks and swung around corners with nobody in it before I got to it and got control of the oars. I was amazed it didn't flip. It also highsided on a rock just as I pulled myself on and before I had the oars in, but slid right off, a little bit scary but I've never been more impressed with a product of any kind. Thanks for making great stuff. By the way 2 of your dry bags were completely submerged for 30 minutes while the boat was hung up in the strainer and every thing was bone dry. I've since purchased 2 of your Paco Guide Pads and they're of course fantastic as well. Thanks for making great gear and for great customer service.
Hank Baca

Jack's Note
These are a very versatile craft. Hank has taken the time to figure out how he wants to rig and use it. The first setups may not work well, but over time our customers get the boat to work well with what they have. We sent Cutthroats to Madagascar, and they use them with 2 paddlers in the front and one oarsman in the rear at times. The reason why this boat worked well was because of its narrowness, easy shipping, and cargo capacity for it's size.