FootThwart function on the Culebra grande

This is a drawing of the standard Culebra Grande for 2012. It has foot thwarts that are situated for 3 paddlers, two in front and one in the back. There is a profile drawing with the orientation of the foot thwarts and the floor. In that profile drawing is a detail drawing that is expanded so one can see the detail.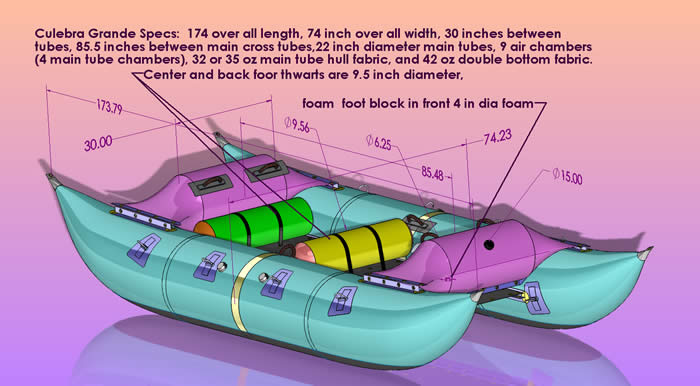 The Culebra Grande is not a new boat. We have been working on this design for a number of years. Until we tried out the new foot thwart concept, it was hard to understand why the standard Culebra was so much easier to stay in. Then when we used the foot thwarts it became apparent. Because the floor is so long and flexible, foot cups just have too far to travel before they actually stop the paddler from going out. The foot thwarts keep the floor from flexing, and they are more stable than foot cups. IN Culebra models that stability is enhanced by tieing the foot thwart down to the floor through grommets in the floor with straps. Adjustable air pressure in the foot thwarts, and adjustable straps make this the most secure and comfortalbe system.
This section view immage shows a little more on how it works for the Culebra Grande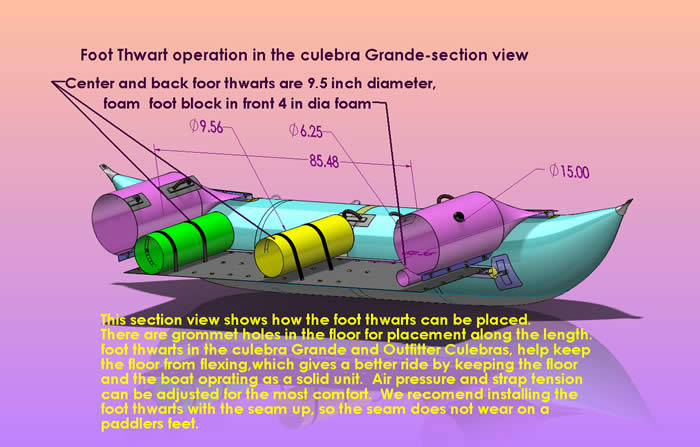 This is a closer view of the Culebra Grande set up for 4 people. Note that the back foot thwart tube (green) Is up against the back cross tube, and that tube is used as a back foot brace in this case. The front foam block is only 4 inches, and it is braced against the front cross tube, and is held from rotating upward by straps that wrap around the cross tube to floor tie down grommet strip.
Please look at this culebra specification table to see more immages and to get edrawings of most the different culebra models
home | products | photo gallery | find a dealer | river running | environmental | related info | FAQ | view cart | contact us
Order inquiries: shop@jpwinc.com
Custom & Prototype inquiries: info@jpwinc.com
© 2011 Jack's Plastic Welding, Inc
Toll Free 1-800-742-1904
P. 505-334-8748, F. 505-334-1901