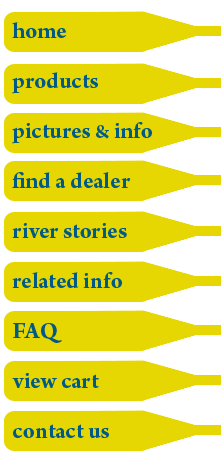 Royal Flush Cataraft
Royal Flush Cataraft on a 4 Bay River Boat Works Frame
This is a photo of the New Royal Flush design for 2008. We actually introduced this shape in 2007 with the new Outfitter Culebra on 22 inch diameter tubes. The New Royal Flush combines the tradition of the old Royal Flush with a modified Rocker, and the El Tigre style cats with a blunt nose design. This boat has a shorter initial waterline, and a over all longer length than a Daddy Cat. We feel that this boat will give the best of both worlds to our cataraft customers. It has improved maneuverability when the boat is used in technical whitewater with light loads or day trip scenarios. Yet with large loads the boat will perform with the same amount of cargo capacity as a Daddy Cat. This is possible with the use of a front end rocker that comes up gently at first, so that as the boat carries more gear and sinks further in the water, It can carry more load due to its length. See the drawing for this boat.
The price of the Royal Flush is the same as a Daddy Cat.