Emergency rapid deployment spill containment system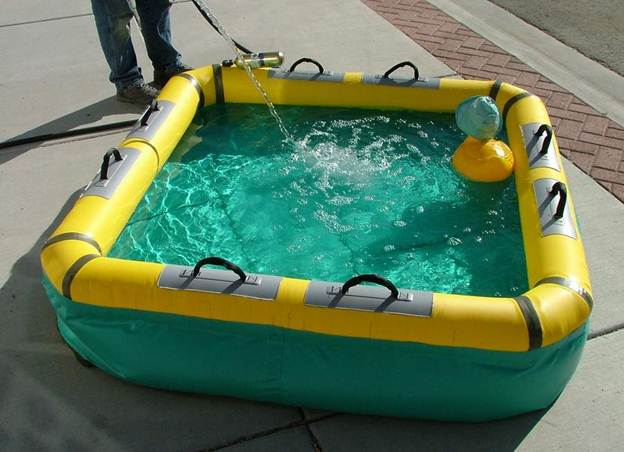 Inflatable containment inflates from a CO2 cartridge in seconds!
Why it saves you money:
Down here in the Oil and Gas patch of NW New Mexico there is a lot of drilling and production activity.  That means a lot of heavy equipment going down some dirt roads that can often be in real sad shape.  Out here, when there is a fuel leak, you pick up the contaminated dirt and ship it to the dirt farm in Oklahoma.  That costs a lot of money, and it is not good for the environment to ruin dirt in the first place.   Baker Hughes Co's Head of Safety, decided to have us make a device that can ride behind the semi-tractor cab, and be used if necessary to collect fuel before it becomes an environmental mess. 
How it works: 
There is a CO2 cartridge that fills up an inflatable chamber tightly when the jerk to inflate cord is pulled.  The inflatable ring floats on top of the fluid, and the buoyant force pulls the skirt up with the inflatable ring.  The container is a dry bag, made of truck tarp material, which rides behind the cab.  If there is an emergency the operator pops a side release buckle, and then pulls the inflatable free of the bag.  He pulls the ripcord, and places the unit under the leak.    The unit will catch up to 180 gallons.  It is that easy.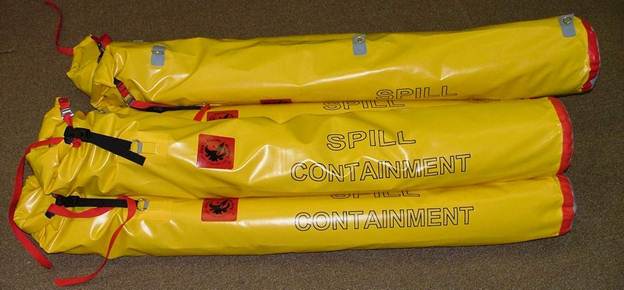 Spill containments are packaged for easy deployment in their own dry bags
The design can be easily altered  to catch more using the same ring with a higher skirt that may or may not taper outwards.   
How much does it cost?
It costs much less than a tank of diesel that you are trying to save, and thousands of dollars less than an EPA cleanup.
Please look at our industrial price list at this web site for pricing information and more industrial products. 
http://www.jpwinc.com/pages/indprice.htm
Please contact us for more information.  1800 742 1904 or visit our home page  http://www.jpwinc.com/
home | products | photo gallery | find a dealer | river running | environmental | related info | FAQ | view cart | contact us
Order inquiries: shop@jpwinc.com
Custom & Prototype inquiries: info@jpwinc.com
© 2011 Jack's Plastic Welding, Inc
Toll Free 1-800-742-1904
P. 505-334-8748, F. 505-334-1901