JPW Uses Welded SUP Inflatable Technology to Enhance Self Bailing Raft Design
We have been building some unique self-bailing rafts for some time.  One of the problems with the drop stitch floor design has been how to get the floor to fit better, get more flotation , and curve upward into the bow and stern without compromising hull speed and the tunnel effect that enables our boats to be so fast on the water.   This is where the SUP welded technology comes into play.  We have been working on the system that would enable us to determine how much kick we need to put into a drop stitch floor. This system has been working very well.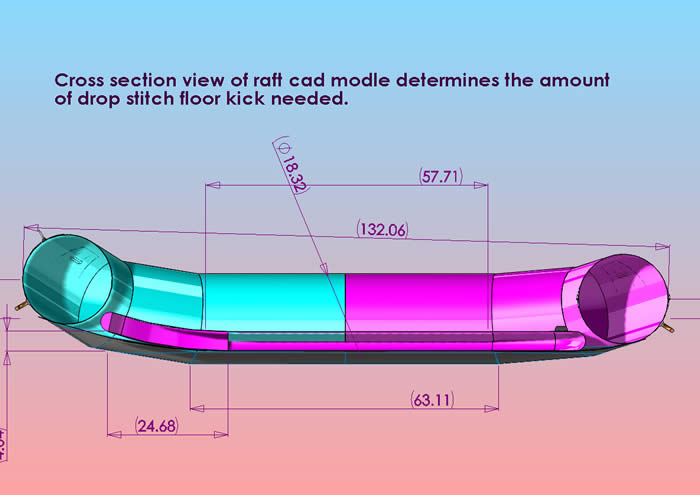 With our cad modeling, we determine how much kick a floor needs and the shape it needs to be.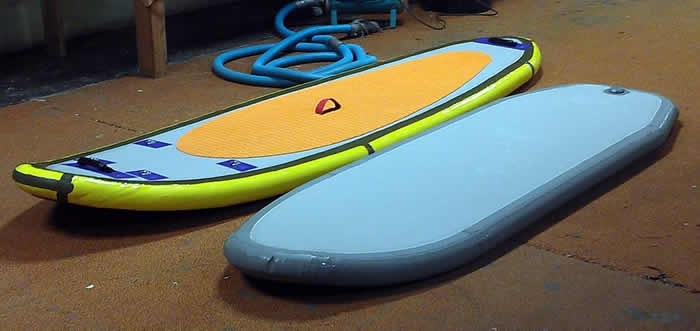 Here we see the difference between the SUP and the Fast Eddie Upkick. Fast Eddie does not need as much over a shorter and wider plane.
Then with some interesting patterning and welding techniques we make the floor kick the desired amount over the desired length, to better fit the boat we are working on.  Just some trade secrets we have come up with.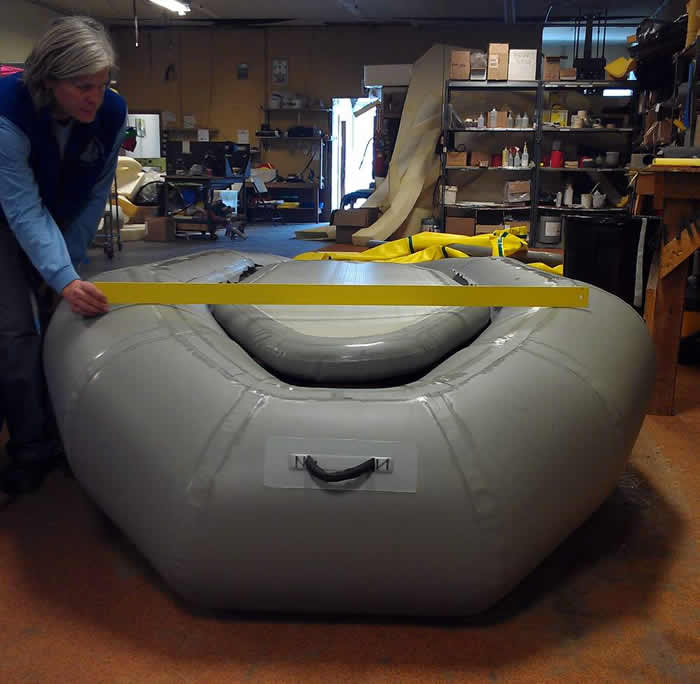 The end result is a floor that fits nicely up inside of the main tubes, and follows the curvature of the upswept end.  
This is the Fast Eddie Raft that is still in the prototype phase, but the system worked SPOT ON with this boat.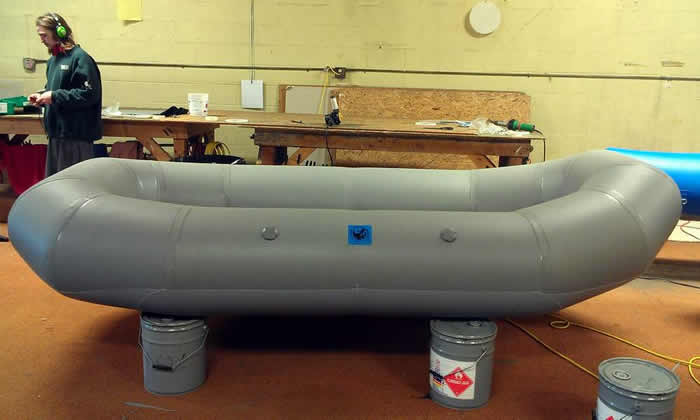 This is the 13 ft dragon fly floor Note how it kicks on both ends.

This immage shows the dragon fly with the floor installed. Note how far up the end we were able to get the floor with the kick, and the floor tapers inbetween the tubes perfectly.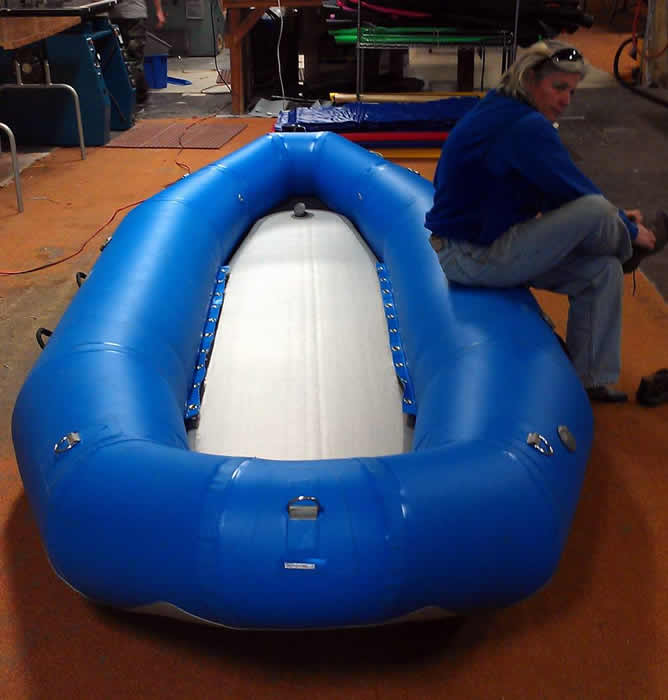 This immage shows the bottom of the boat when the ends of the floor are pushed up by glue cans, to simulate someone standing on the ends.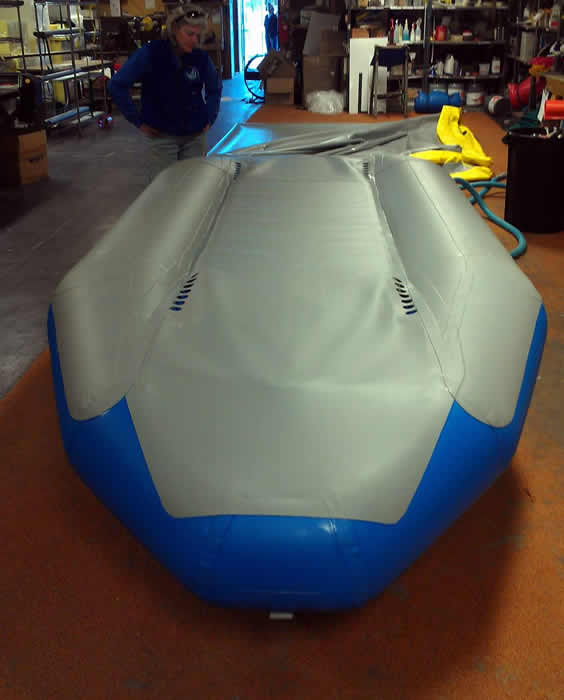 However that does not show how smoothe the transition really is when someone is actually standing on it, That is why I am including this picture where Perri is standing at the end. Look at the 42 oz bottom and note how smoothe the transition is. You can see that there is clearance between the shop floor and the inflatable floor because you can see light shining through the bail holes. This system makes for the best tracking fastest hull speed of any fishing boat around.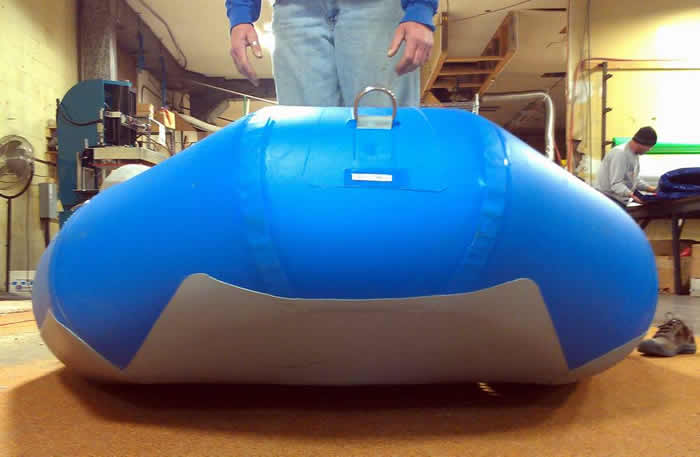 This is a picture of the kicked floor we built of the stretched fat boy.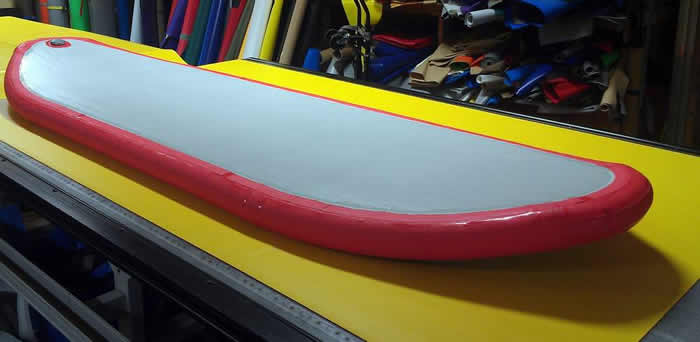 This is a detail shot of the front of the floor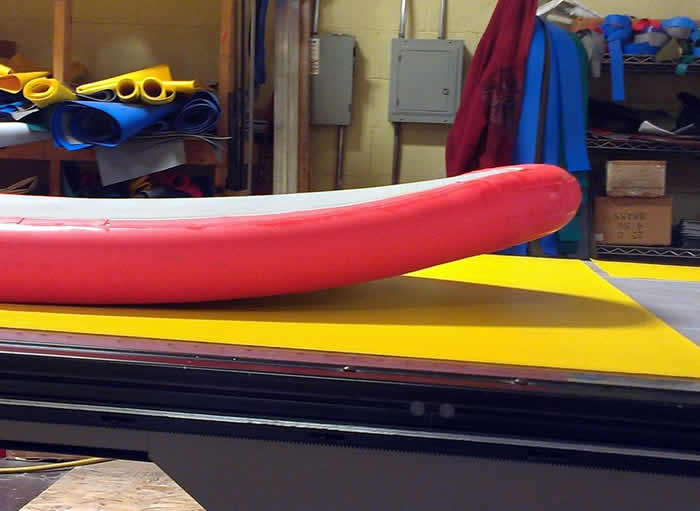 15 ft raft drop stitch floor for extra wide floor- the distance between the tubes at midline is 43 inches

Thanks for having a look.
We will have more as the idea progresses.
By the way we could not do this without an incredible team of people. Some have stuck it our for well over 10years.
That is why we are serious when we say:
Buying a raft does not have to be a gamble when you go with the team that holds all the cards! The wild cards from JPW of course
Go to this link if you are interested in learning more about Inflatable SUP Repairs
home | products | photo gallery | find a dealer | river running | environmental | related info | FAQ | view cart | contact us
Order inquiries: shop@jpwinc.com
Custom & Prototype inquiries: info@jpwinc.com
© 2011 Jack's Plastic Welding, Inc
Toll Free 1-800-742-1904
P. 505-334-8748, F. 505-334-1901