Custom Dry Bag Design Procedure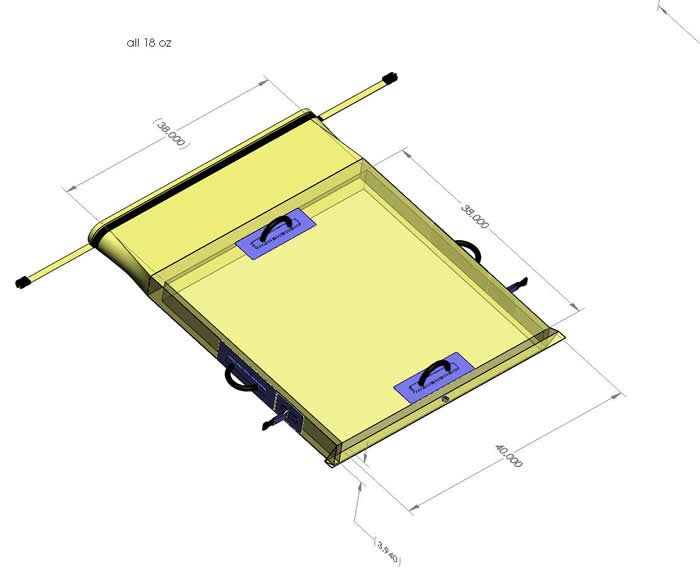 The 38 in by 38 in by 3.94 in dimensions in this drawing represent the cargo inside of the bag. You can see that there is 1 inch clearance on each side for ease of the item removal. The handle is located in the center of the cargo on the side for the best balance. This bag was customized for easier handling of the Gong that fits inside with 2 handles on the top wide face. We can always move handles or the d rings to different locations to fit your needs.
Please measure the longest length, the greatest thickness, and the widest width, of the item you are going to put in the bag. Our Solid Works program will automatically update the bag design, and the patterns. We still need to transfer the patterns to the cutting machine software, but that does not take long.
Please give us as much information about where the D rings and handles should go. We can make the bag without 35 oz bottom or d rings. We also have round bottom custom bags. Call if you need to, 1-800-742-1904.
A simple size change to this style of bag would cost $25.00. Complex designs need to go through the prototype production process. It is still less costly to use a standard bag for your item even though it may be slightly larger than you want.
We make a wide variety of custom dry bags for just about anything. We are especially proud of our musical instrument cases. We also make cases for percussion mallets and drum sticks. as well as Gongs and cymbal bags.
We require that all bag designs be checked by customers. In most cases we will send a jpeg to your e-mail a dress for approval. For more complicated items, we will ask you to down load the Edrawings program. Please read about how to get more detail from Edrawings here: Using edrawings for design work.