How To Build a Better Self Bailing Whitewater Raft
The best way is to get people involved who know something about raft performance. Those people are our customers. Customers with diverse experiences who run trips in Colorado, New Mexico, Arizona, Texas, Mexico, Idaho, Montana, South America, Nepal, and Africa, and Denmark. We do not have rafts in all of those places, but we do have cats or rafts in those places, and we do get a lot of great feedback from our customers who use our inflatables there.
Often when we start talking about raft designs, customers will often say... We did not know you made self bailing rafts. We have been working on self bailing raft concepts since 1990. that is 21 years out of 28. We have seen a lot, and we have listened to a lot of customers. After all, we live vicariously through our customers experiences, and we want to know what those experiences are, even if they are not good, we want to hear about them and adjust our products to do a better job. We pride ourselves on customer feed back.
We have made huge mistakes, and we have watched our competitors make them too. We pay attention to what works and what doesn't, and we do not stick with a design feature that is goofy just because we have a lot of design time or money invested in a product or a process, or because we want you to believe we have the best gimick. For these reasons, we use quality inflatable fabrics that are designed to hold air, and have good coating adhesion. We do not use zippers, bladders, or coatings on the inside or outside of our rafts. Our air chambers are 100% welded and will not have a glue failure over time. We use materials that have proven to be some of the most UV resistant. For all of these reasons, we can offer a 10 year warranty, and a 5 year warranty for Outfitter use.
Please keep in mind that we still have 95% of our boats that we made in 1988 still in use.


So Now I am going to try and sell you on the engineering of the product.
General shape:
We start off with a general shape of a product in profile and you tell us if this is something that looks good for your purpose. Some customers like more or less kick depending on what they want to do with the raft. Width for cargo load, (usually a cooler size) and main section that helps determine the rowing frame size. We will adjust these if necessary.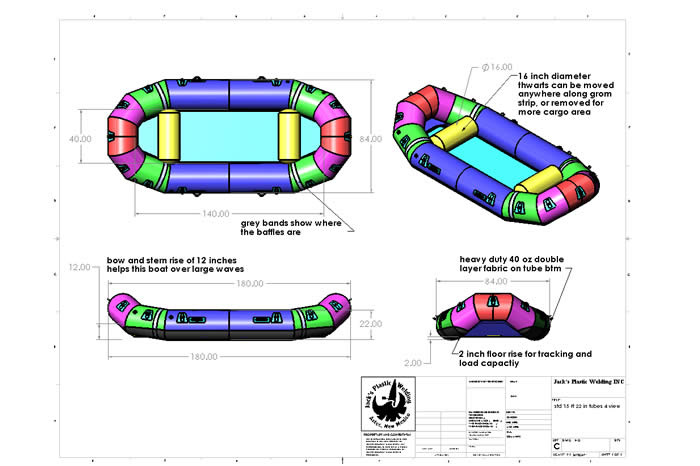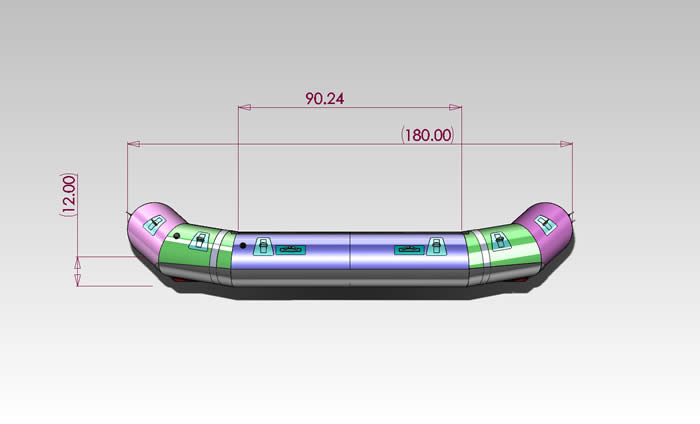 We discuss features like the length and kick of individual sections, and how that effects the drop stitch floor placement, The placement of the Drop stitch floor for tracking and self bailing, and the trade offs we get with different designs. Please remember that we can adjust the placement of d rings handles, valves, and grommet strips to make it as convenient as possible. We ask you to consider smaller cross tubes (thwarts ) for foot holds instead of using foot cups. Please see the concept used on the Fat Boy Raft, and the Culebra Grande, and Outfitter Culebra frameless cataraft models in our Photo gallery where we discuss products in more detail.
Baffles have a cone shape, and extend into the next chamber some distance, depending on the diameter of the tube.  We try to place the baffles in a place that is easy for manufacturing that distributes the weight evenly if there were a failure, and where they are not in a place where we have to put a D ring.  The area that the baffles are welded is designated with a colored ring on all of the design JPEGS. This image also shows how a baffle cone would look if it were inflated into a damaged chamber. It is ideal to keep evenamounts of air in all chambers so there is no stress on the baffle..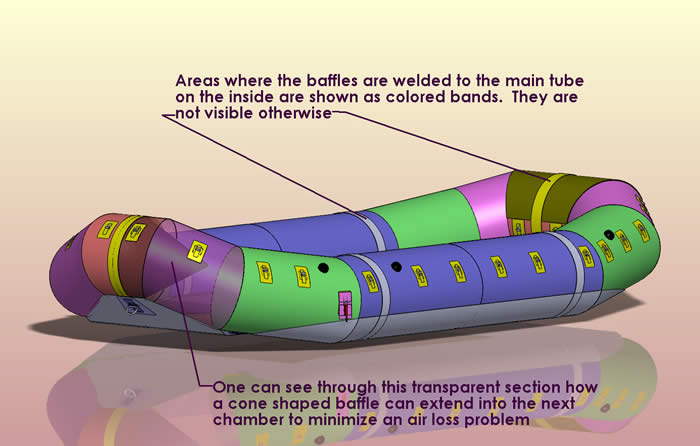 We tend to stay with a design that has a removable Drop stitch floor. At this time I think it is important to explain how it works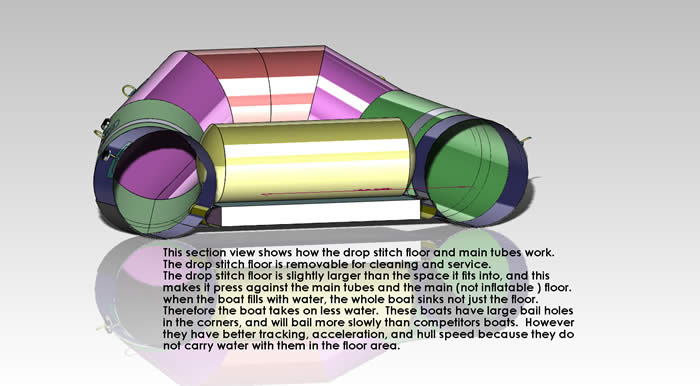 One can see the parts interfering with each other. This is how we fit the inflatable together to take advantage of that interference for a tighter floor fit.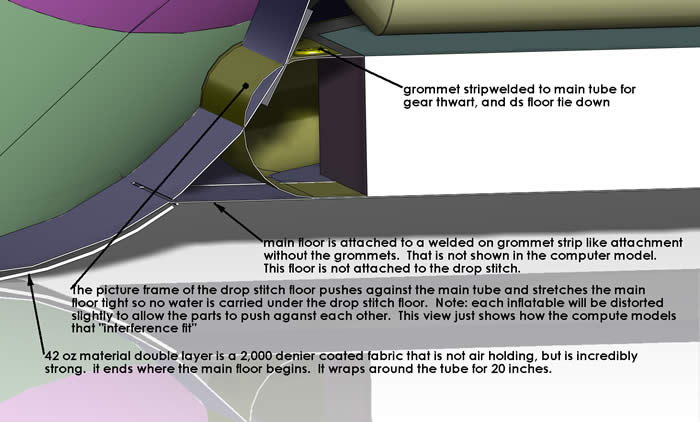 An inflatable floor of this type increases flotation, and hull speed, but it also limits the amount of bailing speed. It also does not take on as much water to begin with. Regardless we think it is important to show the bail hole system also.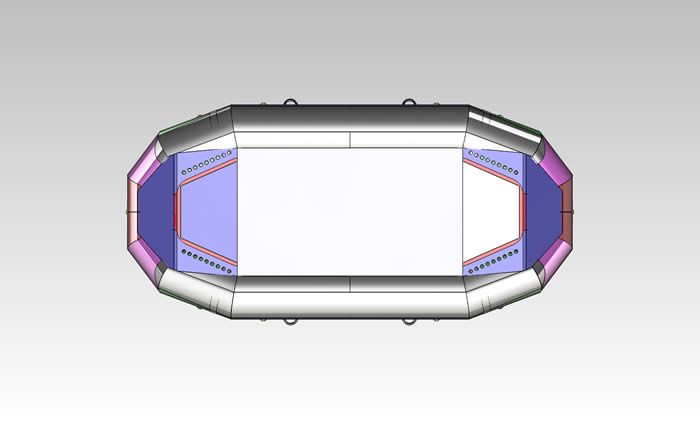 The bail holes are through 3 layers of welded fabric, Even so if this drop stitch floor had to be removed, the bail holes could be patched and the boat could be run as a non bailer. That feature could save a river trip. It keeps the raft at a functional level Always. We have even built them with the bail holes uncut so the drop stitch can act as a planing surface for motors, instead of acting like a self bailer. That was a bit of a stretch for us, but it seems to work in Iowa for fishing.
Speaking of fishing... This is what our customers on the San Juan are telling us about our Dragon Fly Fly fishing raft.
Here are the points they love about the boat:
1)      Very stable
2)      Fast and quick response so very little effort to head down stream and get up speed
3)      Holds a line better than any boat they have rowed and quick to spin to keep the line from getting tangled
4)      Great in the wind so much better than anything
5)      Light weight want to keep the frame weight down where 2 people can lift it easily
6)      The draft is amazing, they are going places where no drift boat goes
7)      This is the ultimate boat for fishing! These guys use Dories a lot on low water, so they are thrilled with this boat.
Pl
I would highly suggest that you go to this web site and have a look at some of the self bailing rafts we have done to date.
Look here if you would like to read more about the materials we use to make our self bailing rafts.
 Open up the file with the viewer program.    Push the play button. Or you can read more at the site above. Usually the play button is a great first time look at the capability of edrawings.
Please have a look At the custom self bailing raft table. It has most of the custom rafts we have made over the past few years, and it includes edrawing files for you to download.
Rockered drop stitch floors
In the summer of 2012 we made our first stand up paddle boards with rockered drop stitch. We decided to make some of our rafts with rockered floors too. these boats are mostly fly fishing boats, but we may use the same technology eventually in some of our other self bailers.
SUP technology is used to make a better performing raft
In summary:
Engineering is an important part of any product, and the people who know the most about what needs to be done for a product are those who use the product on a regular basis. We make no assumption that we know more about rafting than our rafting customers. Therefore we encourage our rafting customers to contact us about any of our designs. We have a number of them and the size, kick, D ring placements and valve placements usually come from our customers. We encourage our customers to collaborate with us on design, and Edrawings is a great way to do that.
home | products | photo gallery | find a dealer | river running | environmental | related info | FAQ | view cart | contact us
Order inquiries: shop@jpwinc.com
Custom & Prototype inquiries: info@jpwinc.com
© 2011 Jack's Plastic Welding, Inc
Toll Free 1-800-742-1904
P. 505-334-8748, F. 505-334-1901